What are you all doing this weekend?
I am getting in some girl time with a mani/pedi (I DESPERATELY need one!) and of course some
spring wardrobe updating
.
A couple of rambling thoughts to end the week, :
My work schedule for this term sucks! And is seriously impeding my gym time.
Sean's schedule sucks worse. Way worse.
I need to take another knitting class so I can knit pretty things.
I LOVE Raising Hope. Have you seen this show? It is the. funniest. show. ever.
I also love Glee and can't wait for a new episode!
If my demon ball of fur eats one more of my plants I might have to use him as compost.
I bought wall decals for our living room. I will be posting about them next week. I can't wait to get them up!
I would rather gnaw my own arm off than iron clothes. Consequently Sean did 2 hours worth of ironing on his day off. My domestic diva award will be arriving in the mail next week.
I am out of wine. How did this happen, and how soon can I fix it?
I am redesigning the blog next week and it's going to be epic. Details to come!
Meet me over at Where We Love is Home for Happy Hour today!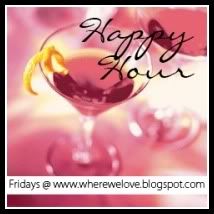 Have a lovely weekend. Have some adventures for me!